ATTENTION ADBSS MEMBERS - WE NEED YOU
The ADBSS Board and Committee Chairs are always in need of a few good members to join us in our activities and programs. We have a variety of committees and are involved in many issues where you can be of great assistance. Our standing committees are Publicity and Promotions Programs, Legislative, Ram's Horn, Merchandise Membership, Habitat Projects, Fundraiser
Click on an activity below
Annual Banquet and Auction
ADBSS 36th Annual Fundraising Banquet
March 9, 2019 – Embassy Suites (formerly Chaparral Suites)
5001 N. Scottsdale Rd – Scottsdale, Arizona
Waterhole – 4:00 pm Dinner - 6:00 pm
The annual fundraising banquet is the Society's primary source of funds. All money raised at the banquet is used to benefit bighorn sheep through water development, habitat improvement, surveys, transplants, research, and other management activities. A number of high quality hunting and fishing trips will be auctioned, along with rifles, bows, camping equipment, original paintings, limited edition prints, bronze sculptures, unique furniture pieces and vacation packages. Items auctioned and raffled range widely in value, giving everyone an opportunity to participate. A highlight of the fundraiser will be the live auction of the state of Arizona Commissioners' Rocky Mountain sheep tag.
Online Ticket Sales Closed
The purpose of this profile is to give you a preview of some of the major items that will be available at this year's fund-raiser. Please take a few minutes to look it over and think about what items you're interested in bidding on. If you have friends who have been looking at hunting trips, fishing trips and other items listed here, why not invite them to come along with you to the banquet?

Sheep Hunter Clinic
Arizona Desert Bighorn Sheep Society Annual Sheep Hunters' Clinic
The 2018 ADBSS Sheep Hunters' Clinic will be held Saturday, September 29, 2018 from 7:30 am-Noon at the Tempe Mission Palms Hotel and Convention Center 60 E 5th St, Tempe, AZ 85281. Registration starts at 7:00 am with coffee and pastries. The clinic is provided free-of-charge.
The clinic is specifically designed for those who have drawn a sheep permit for 2018 but please feel free to bring any friends who will be helping on the hunt. Some of the topics covered will include sheep hunting techniques, how to identify a trophy ram, equipment and optics, photographing the hunt, and field care of your ram.
In addition to the presentations, representatives from all of the Arizona Game and Fish Department regions, the KOFA and Cabeza Prieta National Wildlife Refuges, the Lake Mead National Recreation Area, and the Bureau of Land Management will be at the clinic to give some specific information on a particular hunt unit.
Email admin@adbss.org to make a reservation. Put CLINIC in the subject line, and include your name, daytime phone, and the number of people in your party.
If you have drawn a tag, we encourage you to join the Society. As a member, you will receive our quarterly newsletter, the Ram's Horn, you will receive mailings about water and habitat improvement projects, and you will be included on our email list. You will also be eligible to receive a plaque commemorating your sheep hunt at next year's Ram Recognition Banquet.
Ram Recognition Banquet
Arizona Desert Bighorn Sheep Society Annual Ram Recognition Banquet
September 29, 2018 - Tempe Mission Palms Hotel and Convention Center, 60 E 5th St, Tempe, AZ 85281
Our banquet honors those hunters who took rams during the 2017 season, and is an excellent chance for you and your family to see outstanding rams displayed in a collective group. Hunters are able to recognize their guides, taxidermists, and others who assisted on the hunt. Recognition plaques are awarded to all successful hunters who were members of Society at the start of the hunt season and who returned the advance notice hunter award form.
Evening's Schedule
Waterhole - 6:00 pm
Dinner - 7:00 pm
Program - 8:00 pm
Tickets are $60.00 per person, paid in advance. You may reserve a table of 10 with one payment of $600.
Ticket Sales are
CLOSED
Absolutely no tickets will be sold at the door!
Deadline for reservations is September 24, 2018.. No-shows will be billed unless cancellations are received by September 24, 2018..
If you purchase multiple tickets, you must include the names of the persons who are attending in the "ATTENDEES" area. Tickets will not be mailed, but registration will be checked at the door. Dress code is business-casual.
Annual Steak Fry
Annual Steak Fry
To Be Announced...
Youth Essay Contest
Youth Essay Contest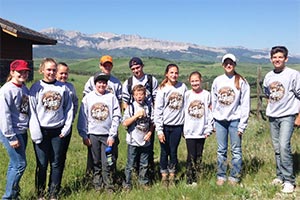 The ADBSS is currently sponsoring ten youths to attend the Wild Sheep Foundation/Boone & Crockett Outdoor Adventure Camp at Theodore Roosevelt Memorial Ranch in Montana this summer. Located about two hours from Great Falls, the TRM Ranch is at the Montana Rocky Mountain front. The Outdoor Adventure Camps teach young people outdoor skills, like shooting, fly-tying, and wildlife identification, as well as a greater appreciation for conservation and natural resources. The camp will afford these youths a unique opportunity to gain hands-on experience and knowledge in a natural setting.
To select the ten deserving youths, we are conducting an essay contest on the theme: "Who benefits from a waterhole project, and why?" We invite all ADBSS members to encourage a youth they know, between 11-18 year of age, to enter our essay contest to be eligible for an all expense paid trip to the Outdoor Adventure Camp.
The lucky winners of the essay contest will be provided with air transportation from Phoenix Sky Harbor Airport to Montana, ground transportation to the camp, and a return flight from Montana to Phoenix. ADBSS will also pay the camp registration fee, which includes equipment, supplies, meals and lodging at the camp.