Sheep Hunter Clinic
Arizona Desert Bighorn Sheep Society Annual Sheep Hunters' Clinic
October 3 – 8:00 am-Noon Arizona Time. The in-person clinic has been cancelled. This will be a live streamed event on October 3rd. There is no charge for the clinic. Although you are not required to be a member to attend, we strongly encourage you to join the Society so that you can take advantage of all the resources we have to offer. As a Society member, you will also be eligible to receive a plaque commemorating your sheep hunt at next year's Ram Recognition Banquet.
The Arizona Desert Bighorn Sheep Society's Annual Sheep Hunters' Clinic, will be live-streamed on October 3rd beginning at 8:00 am. The link to the live stream is:
https://vimeo.com/event/248597
During the clinic, you will have the opportunity to email questions to bmills4@asu.edu and have your questions answered by the speakers during the event.
View FlyerView AgendaView Desert Bighorn Hunter's GuideView Desert Bighorn Aging/Scoring/Judging GuideView Land Management AgenciesView Game & Fish Check-in Procedures
Ram Recognition Banquet
Arizona Desert Bighorn Sheep Society Annual Ram Recognition Banquet
We have unfortunately found it necessary to cancel the Annual Ram Recognition Banquet and our in-person Annual Meeting of Members. Plans are now underway to conduct a virtual Annual Meeting on October 14th. ADBSS members will receive an announcement about this in the mail, and will receive instructions to register for this on-line meeting .
Annual Banquet and Auction
ADBSS 38th Annual Fundraising Banquet
March 13, 2021
Embassy Suites Resort
5001 N. Scottsdale Rd
Scottsdale, Arizona
Plans are now underway for the ADBSS 38th Annual Fundraiser, March 13, 2021 at Embassy Suites Resort. Check back to this page often for updates.
The annual fundraising banquet is the Society's primary source of funds. All money raised at the banquet is used to benefit bighorn sheep through water development, habitat improvement, surveys, transplants, research, and other management activities. A number of high quality hunting and fishing trips will be auctioned, along with rifles, bows, camping equipment, original paintings, limited edition prints, bronze sculptures, unique furniture pieces and vacation packages. Items auctioned and raffled range widely in value, giving everyone an opportunity to participate.
Annual Steak Fry
ADBSS Annual Steak Fry
Saturday May 11th 4:00 pm
South Mountain Park
10919 S Central Ave, Phoenix, AZ 85042
at the Big Ramada
Everyone who has worked for the betterment of sheep this year is cordially invited - banquet, projects, committee service, what-ever! No tickets are required. The 2018 sheep hunters and their families are provided complimentary admittance as guests of the Society. If you are not a Society member, you are welcome to attend and pay at the door:
$10 per person
$15 per couple
$5 for each additional person in the family
Please bring your own silverware!
Hunting Film Tour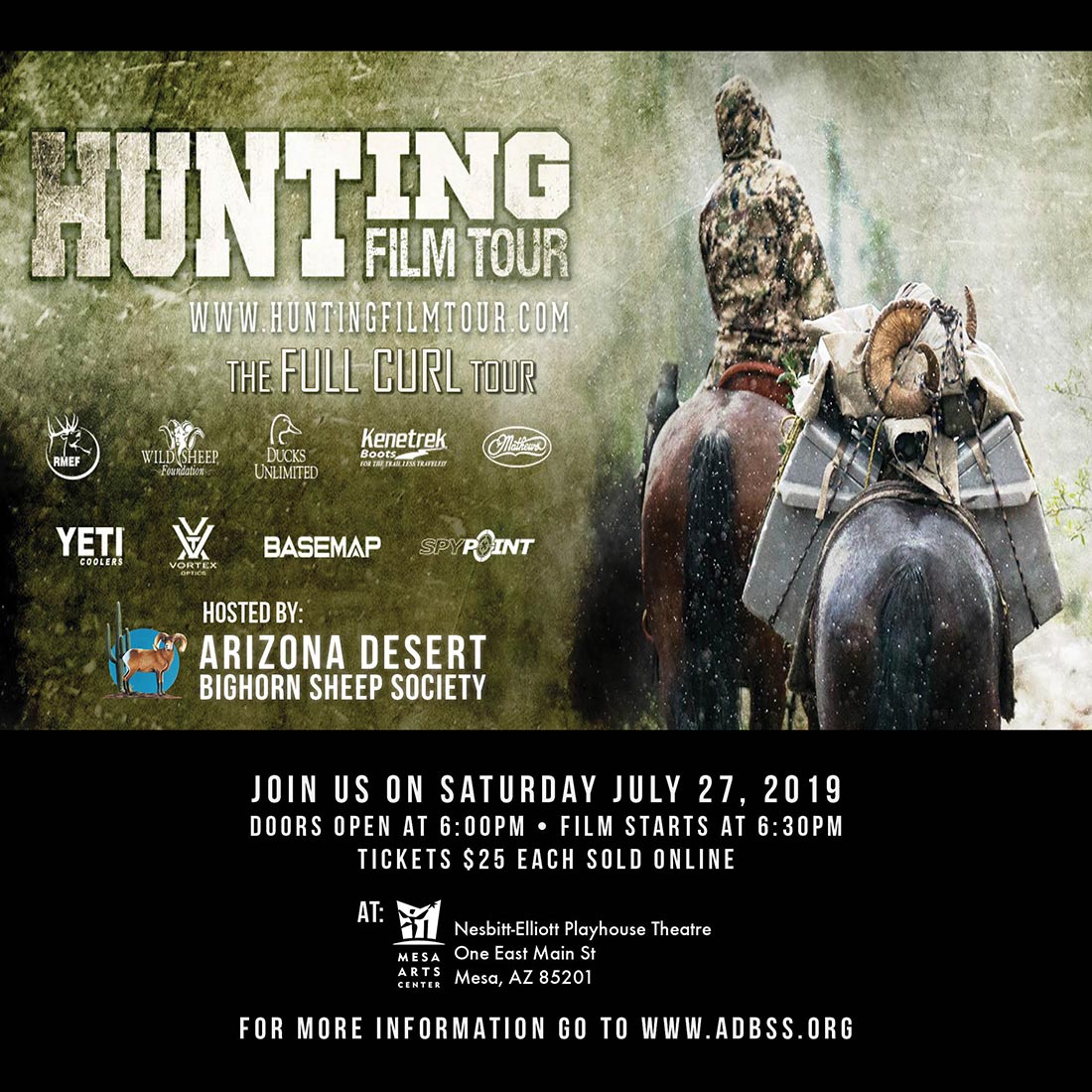 Join us for the Hunting Film Tour Premier in Mesa, AZ! The show will be on July 27th, 2019 at the Mesa Arts Center - Nesbitt-Elliott Playhouse Theater. Come out and enjoy our two hour conservation minded, fair chase hunting film filled with awesome stories and breathtaking cinematography! The show is being hosted by the Arizona Desert Bighorn Sheep Society. All proceeds from this event will be dedicated to Desert Bighorn Sheep Conservation in Arizona!
Tickets are not available online through the Hunting Film Tour website and are available in advance through the Theater Box Office and website for $25 and $30 at the door the night of the event.
Food and Drinks will be available for purchase.
Doors will open at 6:00 pm, the film will begin promptly at 6:30 pm. Be sure to come out early to catch up with your hunting buddies and make some new ones!