The Arizona Desert Bighorn Sheep Society

In The News...
ADBSS Board Meeting
December 9, 2015 7:00 p.m - Chaparral Suites Resort, 5001 N. Scottsdale Rd. Scottsdale, AZ. Board of Directors meetings are available to all members and anyone interested in bighorn sheep conservation. The meetings are the second Wednesday of every month at 7:00 pm.
ADBSS Annual Fundraising Banquet
February 27, 2015 - More details coming soon...
 10 Great Raffles Going on Right Now!
Enter to win a Sheep Hunt, Gould's Turkey Hunt, Polaris RZR, New Mexico Antelope Hunt, Weatherby Outfitter Mark V, Swarovski Optics Package, Arizona Youth Javalina Hunt, Colorado Youth Mule Deer Hunt, or a Youth Gear Package. Don't forget the Big 15 Super Raffle where 15 winners get their choice of 15 great prizes! Raffle ticket bundle packages also available.
Catalina Sheep Reintroduction Program
DONATE NOW!
The ADBSS and the Arizona Game and Fish Department are working together to reintroduce bighorn sheep into the Santa Catalina Mountains. Here is a pic of the first Lamb born to our new herd in the Catalina Mountains near Tucson. This is exciting!!!
This type of intensive, multi-year project will take an extraordinary amount of work and funds to see it through successfully. If you would like to make a tax-deductible donation to this effort, click here. For more information about the program...
Help Arizona's Wildlife And Tell The World About It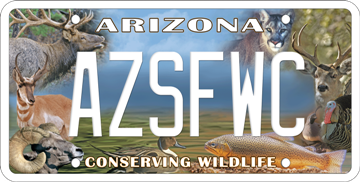 When you display the Arizona Sportsmen Wildlife Conservation License Plate, you are helping Arizona's Wildlife by supporting the Wildlife Habitat Grant Funds for habitat restoration and Youth Education Programs. Click Here for more information.
>