THE ARIZONA DESERT BIGHORN SHEEP SOCIETY


ADBSS Board Meeting
June 10th, 2020 - 7:00 p.m - Embassy Suites by Hilton Scottsdale Resort (formerly Chaparral Suites Resort), 5001 N. Scottsdale Road, Scottsdale, AZ. Board of Directors meetings are available to all members and anyone interested in bighorn sheep conservation. The meetings are the second Wednesday of every month at 7:00 pm (Except December).
Upcoming Project
Springerville District Trick Tank Project - June 11-14th, 2020
Three sites have been chosen (Loco Trick Tank, Phoneline Trick Tank, and Coon Trick Tank), each of which have trick tanks in various states of dis-repair that need to be repaired.
Site specifics:
Coon Trick Tank – Partial install: Already has an apron – will need some minor maintenance (tightening bolts, cleaning out the gutter, etc). Install – Tank, trough, and plumbing.
Phoneline – Full install
Loco Trick Tank – Full install
Directions:
Coon Trick Tank - 261C Road – Kind of gnarly in some places… Won't be accessible by car or low clearance vehicles.
Phoneline – 8070A – This road is the most accessible by car. You can drive almost all the way to the tank, then hike over a little hill and your there. Equipment vehicles can access the site via an admin road that I had our fire folks clear. That's how we're getting the materials in to the site. You'll probably want a truck (or atv/utv) to get in via that route if there is a need.
Loco Trick Tank - That 261F road where it forks to the north (refer to attached map), that part of the road is ­gnarly (!). Recommend high clearance vehicles only from that fork on to the tank. There is a nice staging area at that intersection, so we may be able to work with that and shuttle materials and/or people from there.
In The News...
Wild & Wool; New Film Exposes Die-offs of Bighorn Sheep
Bozeman, Montana. April 17, 2020. The Wild Sheep Foundation (WSF), in partnership with Sitka Gear, has produced a new film that, for the first time, takes an in-depth look at what has been killing wild bighorn sheep since the 1930s, and has been slowing efforts to enhance populations of this iconic species.
The culprit is called Mycoplasma ovipneumoniae, or M.ovi for short. It is a bacterium carried by some domestic sheep and goats that can lead to respiratory complications and death in wild sheep. M.ovi is not a problem everywhere, or everywhere domestic and wild populations come in contact with each other, but M.ovi has been identified as a pathogen in bighorn sheep pneumonia outbreaks. These outbreaks have resulted in sporadic and, in some places, large-scale all-age die-off events in bighorn sheep, in some cases with mortalities of 70% or more of a given population. What's exacerbating the problem is these disease episodes also result in low lamb recruitment often for decades.
"Where domestic sheep and goats and wild sheep share the same rangelands, we either have a problem or the threat of problem," said Kevin Hurley, Vice President of Conservation & Operations for the Wild Sheep Foundation. "Domestic animals can live with M.ovi if they have it, but wild sheep have no immunity to it if they get it."
Wild & Wool follows researchers and biologists as they monitor the health of bighorn sheep in Idaho's Hells Canyon and the mountain ranges near Wendover, Nevada, two past and present M.ovi hot spots. The film also brings forward the story of the domestic sheep and wool production industry and the multi-generational family ranches that partially rely on U.S. Forest Service 10-year, term grazing permits.
"As viewers will learn, this is a complex issue," explained Hurley. "One thing we do know is, with adult mortality rates and poor lamb survival year after year, in wild populations, these infected herds will not last. We can have both on the landscape, wild and domestic sheep, but just not together."
The film was produced in cooperation with Implement Productions and Foss Media. It has been accepted by the prestigious International Wildlife Film Festival (IWFF), and debuts as a virtual online experience on Saturday, April 18, 2020.
"A whole lot of people are committed to putting more wild sheep on the mountain," Hurley concluded. "We have the know-how to do that. It's keeping them on the mountain where M.ovi is making us come up short."
---

The 2020 Ford Raptor Raffle now up and running!
This annual Raffle creates a permanent funding source for AZSFWC.
Special Thanks to Sanderson Ford for Their Support of AZSFWC!
> >
Help Arizona's Wildlife And Tell The World About It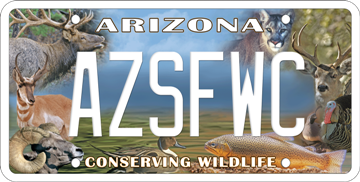 When you display the Arizona Sportsmen Wildlife Conservation License Plate, you are helping Arizona's Wildlife by supporting the Wildlife Habitat Grant Funds for habitat restoration and Youth Education Programs. Click Here for more information.
>