THE ARIZONA DESERT BIGHORN SHEEP SOCIETY



ADBSS Board Meeting
March 13, 2019 7:00 p.m - Embassy Suites by Hilton Scottsdale Resort (formerly Chaparral Suites Resort), 5001 N. Scottsdale Road, Scottsdale, AZ. Board of Directors meetings are available to all members and anyone interested in bighorn sheep conservation. The meetings are the second Wednesday of every month at 7:00 pm (Except December).
Upcoming Project
Solo Peak - 37A - March 1-3rd, 2019
More info coming soon...
Upcoming Events
ADBSS 36th Annual Fundraising Banquet
March 9, 2019 – Waterhole • 4:00 pm Dinner • 6:00 pm - Embassy Suites (formerly Chaparral Suites), 5001 N. Scottsdale Rd – Scottsdale, Arizona
The annual fundraising banquet is the Society's primary source of funds. All money raised at the banquet is used to benefit bighorn sheep through water development, habitat improvement, surveys, transplants, research, and other management activities. A number of high quality hunting and fishing trips will be auctioned, along with rifles, bows, camping equipment, original paintings, limited edition prints, bronze sculptures, unique furniture pieces and vacation packages. Items auctioned and raffled range widely in value, giving everyone an opportunity to participate. A highlight of the fundraiser will be the live auction of the state of Arizona Commissioners' Rocky Mountain sheep tag.
Events Calendar

>
Catalina Sheep Reintroduction Program
DONATE NOW!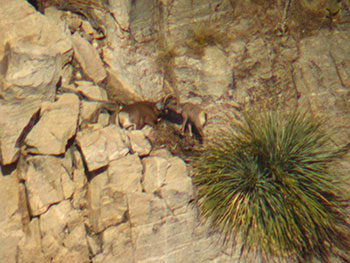 The ADBSS and the Arizona Game and Fish Department are working together to reintroduce bighorn sheep into the Santa Catalina Mountains. Here is a pic of the first Lamb born to our new herd in the Catalina Mountains near Tucson. This is exciting!!!
This type of intensive, multi-year project will take an extraordinary amount of work and funds to see it through successfully. If you would like to make a tax-deductible donation to this effort, click here. For more information about the program...
Help Arizona's Wildlife And Tell The World About It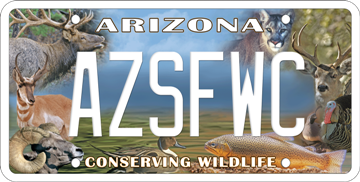 When you display the Arizona Sportsmen Wildlife Conservation License Plate, you are helping Arizona's Wildlife by supporting the Wildlife Habitat Grant Funds for habitat restoration and Youth Education Programs. Click Here for more information.