Facts & Other Info
Update on the Black Mountain Bighorn Sheep Disease Issue
During the October 2015 bighorn sheep surveys in the Black Mountains of Units 15B West, 15C, and 15D, Region 3 personnel detected a possible disease event. The region observed dramatically fewer bighorn sheep in Unit 15C North and South and a smaller decline in Unit 15B West; however, Unit 15D observations were at a record high (Tables 1-4). During the survey, the Region also documented 5 dead and 1 sick bighorn sheep in Unit 15CN and 4 dead bighorn sheep in Unit 15B West. Earlier in the year (summer/fall time-frame), the region picked up several dead bighorn sheep from along the river; 1 ewe was tested and confirmed to have pneumonia. Since the survey, 3 more dead bighorn have been reported. The carcass count is now 8 in Unit 15C North and 4 in Unit 15B West. Coughing bighorn sheep were observed on survey and have been reported by hunters in the area.
In early November, the Department captured and translocated 40 bighorn sheep out of Unit 15D into Kanab Creek in Unit 12A/13A. The majority of bighorn captured for this translocation effort were taken out of the southern and central portions of Unit 15D. Capture crews saw no evidence of sick bighorn sheep during this effort. However, today (12/8/2015), we received a report of coughing, ear tagged bighorn sheep in Kanab Creek; these ear tagged bighorn may be those recently released. Region 2 personnel are following up with the reporting party, and will monitor the bighorn sheep population as appropriate. Until we have more information, future translocations into Kanab Creek will be on hold.
Since we had a helicopter on site, we decided to capture and sample a few bighorn in Unit 15C to confirm disease presence. Three bighorn sheep were captured in Unit 15C North and blood samples taken. These samples confirmed pneumonia (Microplasma ovipneumoniae and Pasteurella spp.) was present in the population. All bighorn observed during this capture in Unit 15C exhibited coughing and runny noses. The spread of this disease into Unit 15D is a significant concern, as Unit 15D is currently the largest and densest bighorn sheep population in the State and is the transplant source for Northern Arizona translocations. The Region started the process with ADOT to repair holes in the right-of-way fence along AZ Highway 68 (the dividing line between Units 15C South and 15D) and were investigating the possibility of fencing the 3 underpasses to prevent bighorn sheep from moving from Units 15C South to 15D. Unfortunately, bighorn sheep hunters reported coughing bighorn sheep in 15D near Thumb Butte just south of AZ Highway 68, indicating the disease may have already spread into this area. Two rams taken from this spot had large accumulations of mucus in their nasal passages, a symptom typical of pneumonia. We are currently taking nasal swabs from all bighorn harvested in the Black Mountains but these have not yet been analyzed. The cause of this disease event has not been confirmed. There are 2 likely possibilities: 1) the disease may have crossed into Arizona from recent disease episodes in California and Nevada or 2) bighorn sheep may have contracted the disease from domestic goats which have been trespassing on nearby BLM lands. Strain typing of the pathogens is being conducted to aid in determining the most likely source. The Region is in contact with BLM regarding the domestic goats, our concern for disease transmission, and authorities relative to removal of goats if located on BLM lands. The Region conducted a fixed-wing survey to look for trespass goats but none were seen. Region 3 completed a spot survey of Unit 15D on December 9, 2015 looking for sick bighorn sheep. The initial focus was in the most northern portion of Unit 15D North; 3 bands of coughing bighorn sheep were observed. One ewe from each band (3 total) was culled from the herds and necropsied. The lungs of all 3 ewes were consistent with pneumonia. Anne Justice-Allen determined that is was not necessary to cull any more bighorn from this area, as the 3 already culled provided solid evidence of pneumonia in this portion of the population.
The survey crew then moved into the central and southern portions of Unit 15D. A few coughing bighorn were observed around Mount Nutt and Battleship, which are core areas of bighorn sheep in the unit. No animals were culled.
The survey crew did not locate any bighorn sheep carcasses during this attempt. All bighorn observed appeared in good body condition. It appears we are seeing the beginning stage of this disease event; the disease appears to be working its way into all of Unit 15D.
At this point, the Department will continue to monitor bighorn sheep in the Black Mountains (Units 15B West, 15C North, 15C South, and 15D). We will track reports of sick bighorn and attempt to collect samples from all dead bighorn sheep in this area. We are awaiting disease testing results to determine the strain of the pathogens; knowing the pathogen strains will help us determine the origin of the disease and will guide future management actions.
I am planning to attend your January board meeting. If you have questions before then, please don't hesitate to give me or Jim deVos a call.
Amber Munig
Big Game Management Supervisor, Game Branch
Arizona Game & Fish Department
5000 W. Carefree Highway
Phoenix, Arizona 85086
phone: 623-236-7355
fax: 623-236-7929
email: This email address is being protected from spambots. You need JavaScript enabled to view it.
---
Bighorn History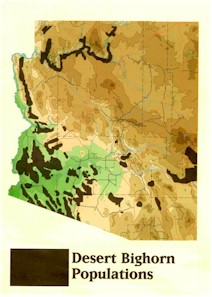 When white settlers started to arrive in large numbers in the mid-1800's, there were substantial populations of bighorn sheep in nearly all the mountainous regions of present-day Arizona except the Navajo country and southeast corner of the state. Bighorn sheep numbers dropped sharply as the human population rose. This was due to many factors:
Devastating diseases were introduced by domestic livestock
Excessive market and subsistence hunting by miners, railroad workers, and other settlers
Fouling or denying of traditional water sources by nearby human activity. Shortly after the turn of the century, the bighorn's range had been reduced to the arid southwest portion of the state and the Grand Canyon, with the exception of small, isolated herds in a half dozen remote locations
Bighorn sheep were protected in the Arizona Territory as early as 1887. This protected status did not lead to an increase in numbers, however, and in 1937 the statewide population outside the Grand Canyon and Lake Mead areas was estimated at no more than 700 animals. The establishment of the Kofa and Cabeza Prieta National Wildlife Refuges in 1939 set aside 1.5 milliion acres of the southwest Arizona for the desert bighorn sheep and other wildlife. Further help came with the formation of the Organ Pipe National Monument, Lake Mead National Recreation Area, and the Havasu and Imperial National Wildlife Refuges.
The statewide population of bighorn sheep had grown to an estimated 1080 animals by 1950, the year that Arizona Game and Fish Department wildlife biologist John Russo began his five-year study that formed the basis for modern bighorn sheep management in Arizona. Bighorn numbers in the state increased very little, if at all, over the next several years.
The Arizona Desert Bighorn Sheep Society (ADBSS) was formed by a group of sportsmen in a effort to help wildlife and land use agencies implement Russo's findings and achieve a significant increase in the state's bighorn sheep population.
Other Info
Sheep Articles & Research Papers
Hunt Results